Family Meal Plan (April) Week 1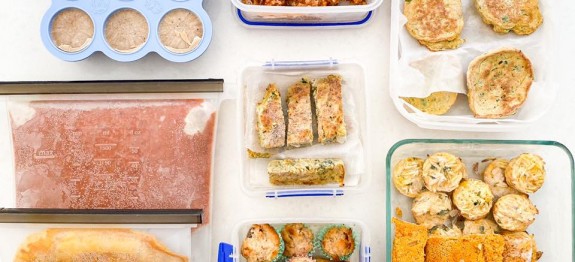 Here at OHC we have been dedicating a lot of our time to coming up with the best meal planning tips and tricks and sharing our own weekly plans with you. Family meal ideas that can be simply copied from ours or integrated into your own family meal plan. Due to the overwhelming response we have opened a Facebook group called Meal planning for busy families – please come and join us.
If you love these recipes you will also enjoy our hard copy books (with allergy notes on every recipe!) and our eBooks which feature many of our magazine recipes (the magazines have sold out). You can find out more about those here.
Here is my meal plan for 6th April, I hope it inspires you with your own plans this week.
We use the Siisti wall planners. I love the clear wall mounted ones and the removable fridge magnet planner – you can see this weeks plan on there. They have so many amazing planners to choose from and have really helped us to stay motivated and plan each week. 5% off using the code ONEHANDEDCOOKS (affiliate link).
I had extra mushrooms this week so they are in a few recipes. But if you don't have access to them you can remove them or swap them in all the recipes.
5 WAYS WITH MUSHROOMS
1. Saute chopped mushrooms with garlic and cream for a delicious and simple steak or chicken sauc
2. Hide chopped mushrooms in a tomato pasta sauce
3. Add chopped mushrooms to your savoury muffins
4. Start the morning with a cheese and mushroom omelette
5. Add mushrooms to you favourite slow cooked casserole.
MONDAY: BEEF, QUINOA & MUSHROOM MEATBALLS 
These meatballs can be paired with our hidden veggie sauce and whatever pasta you can find to pack a nutritional punch. Plus they freeze beautifully!
TUESDAY: CREAMY MUSHROOM CREPES
I'm making these crepes for dinner but I am doubling the crepe mixture. I will then use these extra crepes as a nice sweet morning tea paired with fruit and maple syrup tomorrow.
WEDNESDAY: CHICKEN AND NOODLE SOUP
Food for the soul, this nourishing and warming soup is high in iron and zinc and provides antibacterial and antioxidant qualities important for boosting the immune system. This recipe featured in our magazines.
THURSDAY: ZUCCHINI SLICE 
This is a really great way to use up many staples towards the end of the week and can also be adapted to swap and change ingredients to expand variety.
FRIDAY: TUNA PASTA BAKE
A super speedy mix and bake meal that is perfect for the end-of-the-week chaos. Play around with the veggies included in this meal to choose any that your child is more accepting of, instead offering the new vegetable on the side to explore if they wish.
BAKE: ALWAYS TRY AND BAKE/FREEZE TWICE A WEEK TO KEEP YOUR FREEZER STOCKED WITH HOMEMADE GOODIES.
DATE AND COCONUT BISCUITS: A wonderful sweet treat for all the family.
AVOCADO BANANA BREAD: Banana bread with hidden goodness.
BUY: We love the kid safe knives. With all the cooking you're probably doing at the moment these little kids knives are perfect for little helpers. I am always amazed by how much more my kids eat when they are in the kitchen helping – especially chopping and munching raw veggies.
More wonderful snacks for toddlers can be found in our Finger Foodie eBook, Baby Foodie, Family Foodie, Best of our baking or in our hard copy books How to Raise a Healthy, Happy Eater from Baby to School Age or Boosting Your Basics.
Join us on Facebook for other foodie bits and pieces.