7-Day Cook The Books Meal Plan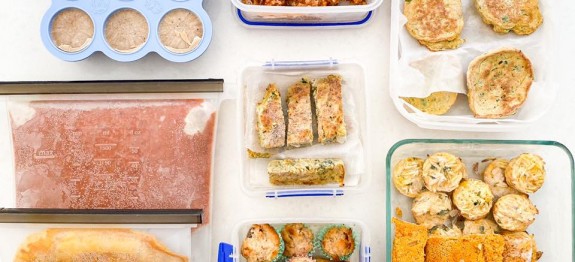 We are well and truly converted to the idea of simple and flexible weekly meal planning. With our free meal plan challenge officially done and dusted we are enjoying a certain level of freedom in our slightly-more-organised lives. This week I have decided to do a cook-the-books themed meal plan to inspire you to try a few more of the recipes in your One Handed Cooks cook books. If you would like more information about our best-selling books you can check them out in our shop. If you love this weekly meal plan then check out our new meal plan collection – Everyday, Slow and pressure cooker, Allergy friendly and Make the most of leftovers. With Tray bakes and dump bags our top sellers!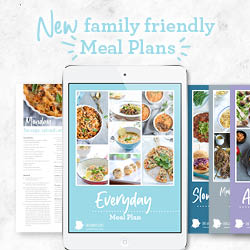 If you need help choosing which one if right for you please feel free to get in touch via our social media Facebook or Instagram. If you are looking for more inspiration and guidance for baby and toddler you can join our free Facebook Baby and Toddler Food group, or our Meal Planning for Busy Families Group where some of the best ideas on the internet are shared by genius group members.
So here we have it. A meal plan dedicated to getting your books out and not being afraid to try something new! I hope you enjoy this meal plan, I have even included a core ingredients list to make shopping a breeze, but don't forget to check out the sides and serving suggestions to add to your list. Need a meal planner? We love these from Siisti, or you can download ours for free in the Meal Planning For Busy family group. Enjoy, Allie xx
MONDAY | YAKITORI SALMON SKEWERS – p.122 RAISING A HEALTHY HAPPY EATER
1/3 cup salt reduced soy sauce
1/3 cup mirin
¼ cup salt-reduced chicken stock
1 clove garlic
1 cm fresh ginger
2 x 200g salmon fillets
5 wooden skewers
1 tablespoon rice bran oil
brown rice and veggie sticks, to serve
TUESDAY | STICKY HONEY CHICKEN – p.72 RAISING A HEALTHY HAPPY EATER
¼ cup honey
2 tablespoon salt-reduced soy sauce
1 tablespoon pure maple syrup
1 small clove garlic
500g chicken thigh fillets
¼ cup corn flour
2 tablespoons rice bran oil
Small brown onion
2 baby bok choy
Sesame seeds, chopped coriander, steamed rice to serve  
WEDNESDAY | SPINACH ANS BACON QUICHE – p.116 BOOSTING YOUR BASICS
2 teaspoons olive oil
4 rashers bacon
1 red onion
6 eggs
1 ¼ cups cream
⅓ cup milk
2 sheets ready rolled puff pastry
2-3 cups baby spinach leaves
¾ cup finely grated parmesan cheese
Steamed vegetables or green leafy salad to serve
THURSDAY | CHICKEN PUMPKIN CURRY – p.121 BOOSTING YOUR BASICS
1 tablespoon olive oil
3cm piece fresh ginger
3 garlic cloves
1 large brown onion
1 teaspoon yellow mustard seeds
10 fresh curry leaves
Small bunch fresh coriander
1 teaspoon ground turmeric
pinch ground chilli
500g free-range chicken thigh
400ml tin no added salt diced tomatoes
2 x 270ml tin pure coconut milk
1 butternut pumpkin (900g)
Coriander leaves to garnish, steamed basmati rice and roti or mountain bread, to serve
Note: Pic on the left is the chicken curry from Raising a healthy, happy eater, as the Chicken pumpkin curry is not pictured in the book. 
FRIDAY | TUNA PESTO PASTA – p.102 BOOSTING YOUR BASICS
500g spiral or penne pasta
1 cup smooth ricotta
¼ cup basil pesto
200g cherry tomatoes
2 cups baby spinach
185g can tuna
2 cups grated cheese
Green salad to serve
SATURDAY | VEGGIE QUINOA SOUP – p.68 RAISING A HEALTHY HAPPY EATER
1 tablespoon olive oil
½ small sweet potato
1 leek
1 stalk celery
1 zucchini
1 carrot
1 clove garlic
1 litre homemade vegetable stock
400g tin no-added salt chopped tomatoes
½ cup quinoa
2 bay leaves
400g tin chickpeas
¼ cup frozen peas
Garlic bread, flat leaf parsley and parmesan to serve 
SUNDAY | ROASTED LAMB SHOULDER – p.129 BOOSTING YOUR BASICS
2 lemons
10-12 unpeeled garlic cloves
6 rosemary sprigs
2kg bone-in lamb shoulder
¼ cup extra virgin olive oil
100g cherry tomatoes
2-3 radishes
1 cucumber
8 Greek style wraps or tortillas
mixed salad leaves, mint leaves, Greek-style or natural yoghurt to serve
BAKE
SPELT DOUGHNUTS  – p.174 BOOSTING YOUR BASICS
100g butter
1 cup rapdura sugar
½ teaspoon pure vanilla extract
1 egg
1¼ cup spelt flour
1¼ teaspoons baking powder
½ cup buttermilk
1 teaspoon cinnamon
PUMPKIN PIKLETS (SWEET VERSION) – p.202 BOOSTING YOUR BASICS
½ small (750g) butternut pumpkin
¾ cup wholemeal self-raising flour
1 egg
1 teaspoon butter
1 teaspoon olive oil
Pure maple syrup, pinch of cinnamon to serve

CHOC CRUNCH CEREAL  – p.30 BOOSTING YOUR BASICS
¼ cup cacao powder
¼ cup maple syrup
¼ cup coconut or macadamia oil
1¼ cups rolled oats
2 cups puffed rice or rice bubbles
¾ cup shredded coconut
½ cup mixed seeds e.g. pepitas, sunflower seeds, chia seeds
½ cup macadamia nuts
4 medjool dates
JOLLY GOOD LUNCHBOX BISCUITS – p.189 RAISING A HEALTHY HAPPY EATER
150g unsalted butter
¾ cup brown sugar
1 egg
1 ripe large banana
1 ½ cups wholemeal plain flour
½ tsp bicarbonate of soda
1 cup rolled oats
½ cup dried pitted dates
½ cup dried apricots